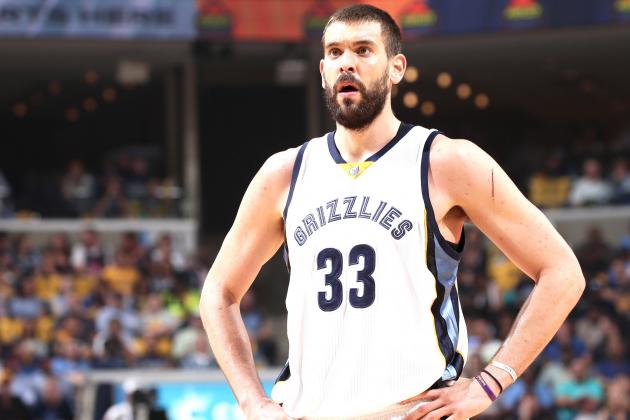 Marc Gasol is a professional basketball player for the Memphis Grizzlies.  Gasol, 32, hails from Barcelona, Spain and is the younger brother of fellow NBA player Pau Gasol.  Marc moved to the United States during his teenage years while his brother played for the Memphis Grizzlies.  He was selected #48 overall in the 2007 NBA draft by the Los Angeles Lakers and was traded in a deal that included his brother Pau that sent him to Memphis where he has spent the entirety of his NBA career.  Marc is finishing up his 9th full season in the NBA where he has proven himself as a legitimate force and an All Star caliber player.  In the summer of 2015, Gasol signed a big contract that has paved the way to his high net worth.
Marc Gasol's net worth currently sits at $40 million.  In July of 2015, Gasol signed an extension with the Memphis Grizzlies that was worth $113 million for five years.  After the conclusion of this season, Marc would have completed two out of the five years on his contract.  His career began with his initial contract with the Grizzlies that was three years for just shy of $10 million.  After averaging double-digit points per game in all of his first three seasons, he was awarded a contract extension for four years worth $57.5 million.  To date, Marc Gasol's on the court earnings in the NBA have totaled more than $100 million.  These earnings along with a few endorsements have helped create Marc Gasol's net worth.  Back in 2015, when Memphis signed Gasol to his extension paying him more than $22 million a year on average, many thought the price was quite steep.  However, Gasol has used his big pay day as motivation.  Gasol was named an All Star for the 2017 season and has also posted a career high 19.5 points per game during the 2017 campaign.  The remaining three years on his contract will pay him more than $72 million, all of which is guaranteed.
When he is not playing in the NBA, Marc is busy helping his home country of Spain win basketball games.  He has played with the Spanish national team for many years.  Additionally, he was a part of Spain's 2008 and 2012 silver medals in Beijing and London.
Even with Marc Gasol's net worth well into the tens of millions, he still finds time to give back to the community.  Both he and his brother Pau founded the Gasol Foundation in 2013.  The mission of the foundation is to help end childhood obesity.  The non-profit currently serves many locations in the brothers home country of Spain along with the United States.  Marc Gasol is married to his wife Cristina and between them they have a daughter.  They spend most of their time in Memphis where the family has a house.
You may also want to check these out:
Making money through Paribus
Yes, You Can Get a Free Trial of Yummy Blue Apron Food
Get A Free Budget Template
James Hendrickson is an internet entrepreneur, blogging junky, hunter and personal finance geek.  When he's not lurking in coffee shops in Portland, Oregon, you'll find him in the Pacific Northwest's great outdoors.   James has a masters degree in Sociology from the University of Maryland at College Park and a Bachelors degree on Sociology from Earlham College.  He loves individual stocks, bonds and precious metals.