Gordon Hayward is a professional basketball player in the National Basketball Association.  On July 4th of this year, Gordon agreed to sign a deal that would make him a Boston Celtic.  Prior to signing a contract with Boston, Gordon spent his first seven seasons of his NBA career with the Utah Jazz.  At 27 years of age, Gordon Hayward's net worth sits at $20 million.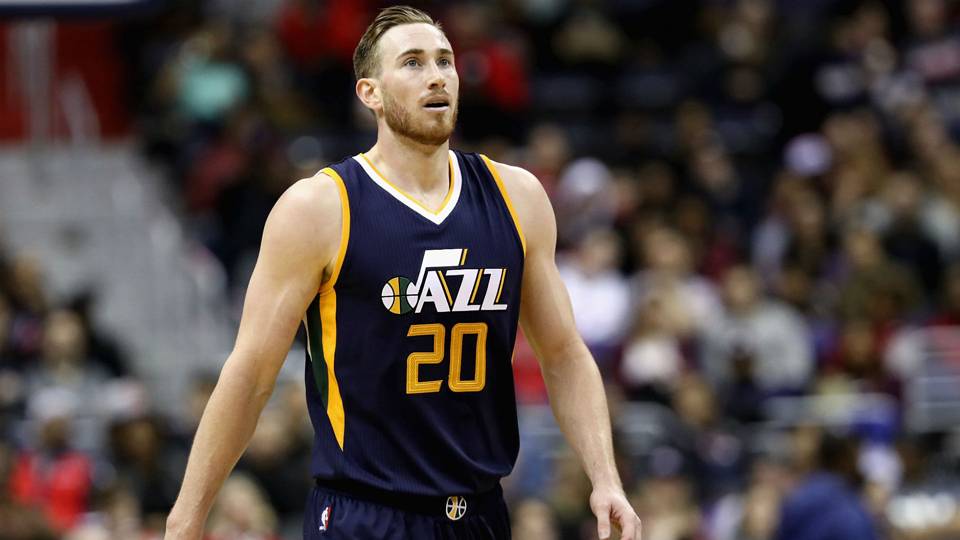 Born and raised in Indiana, Gordon played his high school basketball at Brownsburg High School and went on to play his college ball at Butler University in Indianapolis.  While in college, Hayward excelled in his freshman season.  He started all 32 games for the Bulldogs that year and averaged over 13 points per game and earned the award for the conference's newcomer of the year.  He followed it up with a magical sophomore season where he averaged nearly 16 points per game and led his team to the championship game before losing to the Duke Blue Devils.  After his second season at Butler, Hayward decided to enter the NBA draft.  He was selected ninth overall by the Utah Jazz.  He just finished up his seventh season with the Jazz, and his most recent season was his most productive.  He averaged a career high for points per game at nearly 22 a contest.  His stellar performance during the 2016-2017 campaign earned him his first All-Star appearance.  His eight points and four steals in the all-star game helped the West division seal a victory over the East.
A very large percentage of Gordon Hayward's net worth comes from his on the court earnings.  Back in 2014, Hayward and the Jazz agreed on a contract extension that was worth $63 million over four years.  This contract helped validate Hayward's accomplishments.  However, the deal would be cut a year short as Hayward agreed to a contract with the Boston Celtics.  His contract with Boston will significantly increase Gordon Hayward's net worth in the coming years.  He signed a four year, $128 million contract with Boston.  As it currently sits, Hayward will be the highest paid Celtic for the upcoming season and the third highest paid NBA player behind only Steph Curry and Lebron James.
Off the court, Hayward claims to be a huge fan of video games, and he has even played in the IGN Pro League.  In 2016, Hayward signed a deal with the video game company, HyperX.  Additionally, he has done a few local commercials for companies in the Utah area.
On a personal note, Hayward is married to his wife Robyn.  The couple has two kids together.  Hayward is a good tennis player and even won a club-level charity tennis tournament.  Hayward has also appeared in a commercial for St. Jude Children's Research Hospital and is a participant in the organization's "Fan for Life" campaign.
James Hendrickson is an internet entrepreneur, blogging junky, hunter and personal finance geek.  When he's not lurking in coffee shops in Portland, Oregon, you'll find him in the Pacific Northwest's great outdoors.   James has a masters degree in Sociology from the University of Maryland at College Park and a Bachelors degree on Sociology from Earlham College.  He loves individual stocks, bonds and precious metals.