Mike Tomlin is the head football coach in the National Football League for the Pittsburgh Steelers.  At 45 years old, Tomlin has been the head coach of the Steelers since 2007.  He took control of the team before his 35th birthday, and has led the team to major successes throughout his tenure.  In 2017, Tomlin will be entering his 11th season as the team's head coach.  During his previous ten seasons, he has compiled an astonishing 103-57 regular season record.  Because of his success, he recently signed a brand new contract extension that will keep him coaching in the Steel City through 2020.  Mike Tomlin net worth is estimated to be $22 million.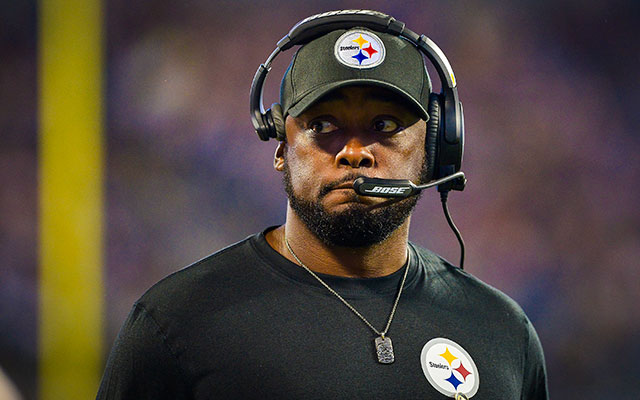 Mike Tomlin was born in Virginia, and his dad had a short stint as a professional football player.  Tomlin graduated high school in 1990 and went on to play wide receiver at the College of William and Mary.  As many in the coaching profession do, Tomlin worked his way up the coaching ladder.  He coached wide receivers and defensive backs in college for a number of years before making the jump to the National Football League and joining the Tampa Bay Buccaneers organization as their defensive backs coach.  Tomlin was part of the staff that helped lead the Buccaneers to the 2003 Super Bowl win.   Mike continued to climb through the coaching ranks and became the defensive coordinator for the Minnesota Vikings during the 2006 season before being named the head coach of the Steelers beginning in 2007.  Since he took over the Steelers in 2007, he has led the team to five division titles, two AFC championships, and a Super Bowl win.  In 2008, he was named the NFL Coach of the Year after leading the Steelers to their sixth championship in Super Bowl XLIII.
Success on the football field has led to Mike Tomlin net worth being in excess of $20 million.  His teams have made the playoffs in seven of his ten seasons as head coach.  His current NFL salary is projected to be around $7 million a year.  This salary is one of the highest among NFL head coaches.  Mike Tomlin's net worth can be attributed to his high salary that has now spanned for over a decade.  Due to his continued high performance on the field along with his recent contract extension, we can expect his net worth to continue to increase in the future.  At only 45 years old, Mike has many years and possibly decades of coaching remaining.  Even if for some reason things turn south in the Steel City, Tomlin can most likely find another coaching gig in the National Football League.
Mike has been married to his wife Kiya for over 20 years.  The couple has three kids together and resides in a suburb of Pittsburgh.
James Hendrickson is an internet entrepreneur, blogging junky, hunter and personal finance geek.  When he's not lurking in coffee shops in Portland, Oregon, you'll find him in the Pacific Northwest's great outdoors.   James has a masters degree in Sociology from the University of Maryland at College Park and a Bachelors degree on Sociology from Earlham College.  He loves individual stocks, bonds and precious metals.