College football coaches are under heavy scrutiny in this day in age.  With social media and a constant flow of news 24 hours a day, being in charge of a college football program has never been more difficult.  However, when you consistently win, coaching can be quite enjoyable.  In comes Jim Harbaugh, head football coach of the Michigan Wolverines.  Harbaugh is currently in his third season as head coach of the Michigan Wolverines, and he has led the team to success they haven't experienced in decades.  His teams went 10-3 during his first two seasons, and is currently undefeated through the first four games of the 2017 season.  Because of his early success in Ann Arbor, Jim Harbaugh has been able to secure a high salary of $9 million for the 2017 season.  His coaching success throughout the years has helped balloon Jim Harbaugh net worth to $22 million.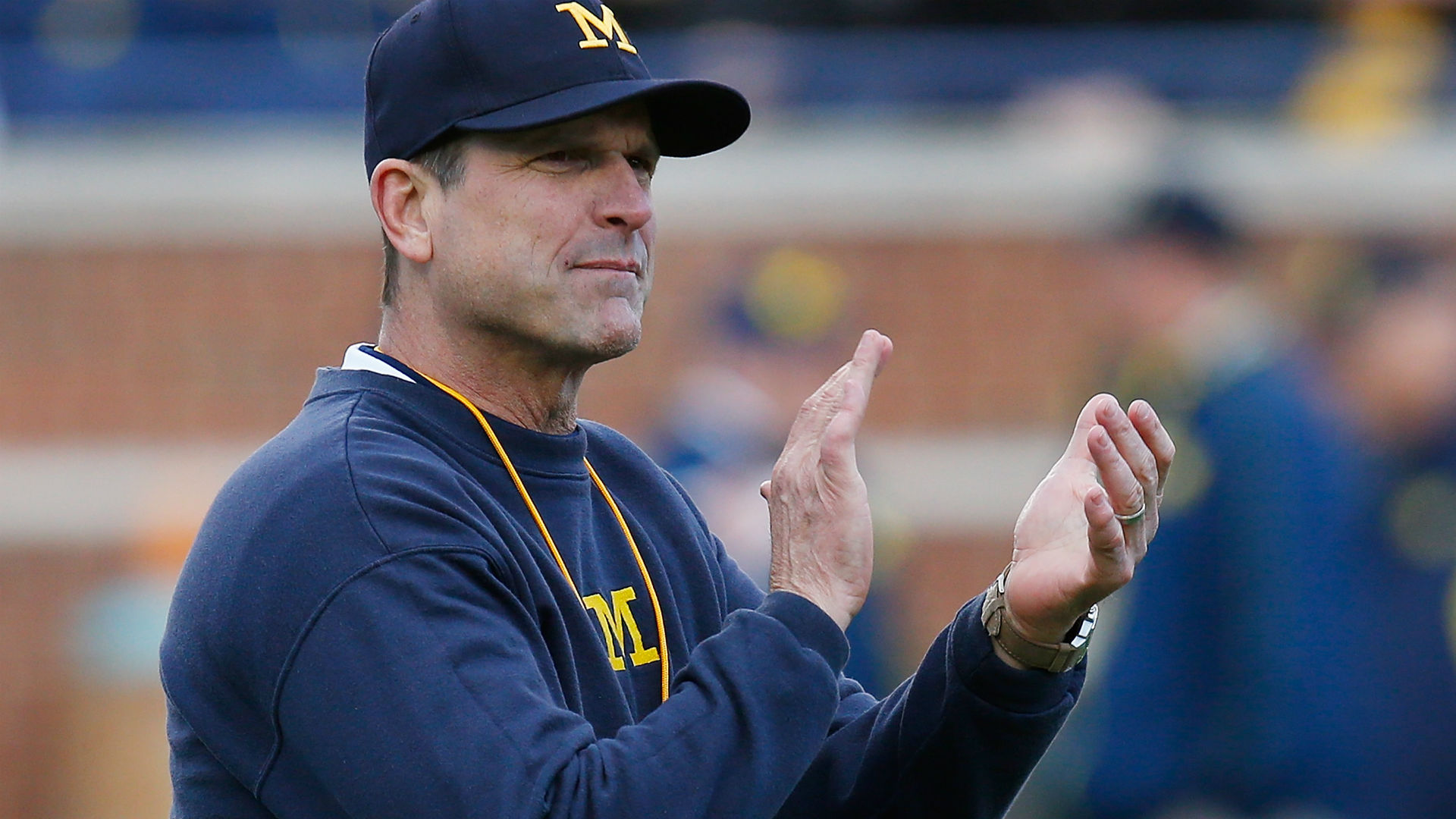 At 53 years of age, Jim has been around football his whole life.  He played quarterback for the Michigan Wolverines during the 80's and led his team to the Rose Bowl during the 1986 season.  He finished third in the Heisman voting that year and went on to be a first round NFL draft selection by the Chicago Bears.  Harbaugh went on to play 14 seasons in the NFL for a number of teams.  He finished his NFL career with over 26,000 yards passing and 129 touchdowns.  In the late 90's, NFL salaries weren't what they are today, and along with playing, Jim took an unpaid assistant coaching job with his father at Western Kentucky.
Jim spent a season as an assistant coach in the NFL after his playing career was over before finally becoming a head coach for the University of San Diego.  Jim had a combined 29-6 record at the helm and led the team to back to back 11-1 seasons and two conference titles.  His west coast success didn't go unnoticed and he soon became the head coach of power five school Stanford.  Jim only spent four season as the head coach for the Stanford Cardinals, but in 2010 he took his team to the Orange Bowl where they won and finished the season with a 12-1 record.  He eventually found himself coaching in the NFL again as the head coach of the San Francisco 49ers.  He coached against his brother, John Harbaugh, in Super Bowl XLVII where his Niners team lost by a field goal.
Eventually Jim landed up in Michigan where he is now and where he has stated he's always wanted to be.  Jim Harbaugh net worth comes from his long career in the NFL as a player and his successes as a head coach at multiple levels.  For the 2017 football season, Jim's $9 million salary makes him the highest paid coach in the sport.  We expect Jim to continue coaching for the Wolverines for a while longer, and thus we expect Jim Harbaugh's net worth to continue to increase.  While coaching salaries have gotten higher over the years, so have the expectations.  If Jim can continue to meet and exceed the expectations of the Wolverine faithful, he can go down as one of the great coaches in all of football history.
James Hendrickson is an internet entrepreneur, blogging junky, hunter and personal finance geek.  When he's not lurking in coffee shops in Portland, Oregon, you'll find him in the Pacific Northwest's great outdoors.   James has a masters degree in Sociology from the University of Maryland at College Park and a Bachelors degree on Sociology from Earlham College.  He loves individual stocks, bonds and precious metals.