As kids, many of us grew up hoping to play sports at the professional level.  I vividly remember playing backyard football and keeping up with my stats like I had a million dollar contract to prove my worth.  In reality, very few of us actually make it; however, Tyrod Taylor is different.  Growing up in Virginia, Tyrod excelled as an athlete from a young age.  He was a three sport athlete in high school and played multiple positions on the football team.  His stellar play in high school led to football scholarships and Tyrod eventually signed with Virginia Tech.  Athleticism and determination have helped give Tyrod Taylor net worth a value of $10 million.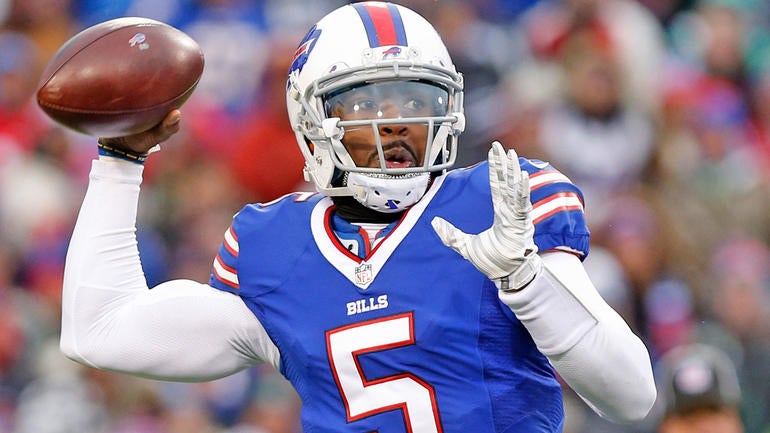 In college, Taylor started 42 of 50 games during his four year career.  He amassed 50 passing touchdowns along with another 23 rushing touchdowns in his tenure.  During his senior season, he was named the ACC Player of the Year.  He led his Hokies to the ACC Championship game that season, where they knocked off the Florida State Seminoles.  In the 2011 NFL draft the following year, he would be selected 180th overall by the Baltimore Ravens.  While his first four seasons at Baltimore were mainly spent in the backup role, he would eventually become a starter when he signed with the Buffalo Bills in 2015.  A strong showing during the 2015 season with Buffalo eventually led to Tyrod signing an enormous contract with the Bills.  This contract was worth $90 million over five years and would significantly add to Tyrod Taylor net worth.
The 2016 NFL season didn't go as well as Tyrod or the Bills had hoped.  Tyrod's play was average, but the Bills had another losing record which led to the firing of head coach Rex Ryan.  A clause in Tyrod Taylor's contract made it so Buffalo didn't have to pay him the remaining four years of his original five year $90 million contract, which they didn't.  Instead, the organization decided to restructure the deal, and in March of 2017 it was eventually altered to 2 years for just $30 million.
Despite throwing 48 touchdowns to only 15 interceptions from 2015 through the first 10 games of 2017, Taylor has yet to solidify his starting spot among the coaching staff.  Yesterday, Tyrod did earn his starting role back against the Kansas City Chiefs.
By the end of the 2017 NFL season, Tyrod Taylor's net earnings through the league will exceed $27 million.  More than half of that amount is being earned during this season through his salary and signing bonus.  If Tyrod can get back on track and lead the Bills to numerous wins down the stretch, he may be able to solidify himself as a staple in the team's locker room.  A good end to the season means that Tryod can expect the Bills to exercise their option for the 2018 season, where he'll be due roughly $16 million.  Stellar play towards the end of the season is the best way for Tyrod Taylor net worth to continue to increase in the years to come.
James Hendrickson is an internet entrepreneur, blogging junky, hunter and personal finance geek.  When he's not lurking in coffee shops in Portland, Oregon, you'll find him in the Pacific Northwest's great outdoors.   James has a masters degree in Sociology from the University of Maryland at College Park and a Bachelors degree on Sociology from Earlham College.  He loves individual stocks, bonds and precious metals.