Who does the richest contract in all of professional sports belong to?  The answer is none other than New York Yankees player Giancarlo Stanton.  The 28 year old is spending his first full season with the Yankees organization after being traded from the Miami Marlins this offseason.  Before leaving Miami, Giancarlo signed the largest sports contract valued at $325 million over 13 years.  What is the net worth of Giancarlo Stanton?  Giancarlo Stanton's net worth currently sits at $15 million.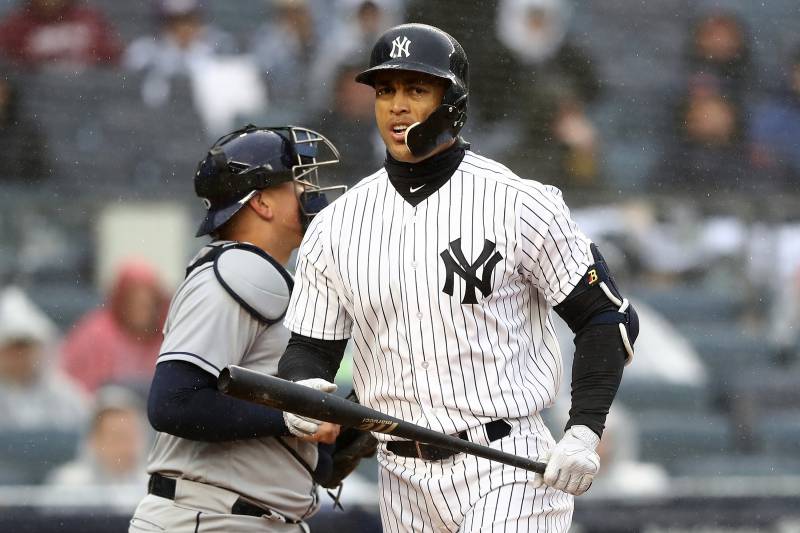 Drafted in the second round of the 2007 MLB draft, Stanton spent the first few years of his professional career in the Marlins minor league organization.  Giancarlo was eventually called up during the 2010 season and had been on the Marlins roster ever since.  That is until the New York Yankees came calling.
In December 2017, the Yankees sent three of their players to Miami in exchange for Giancarlo and $30 million cash.  The $30 million was to help pay for his salary.  Stanton is scheduled to make $25 million this season, tops on the Yankees roster; however, that salary is a mere 13th in overall value for the 2018 season when compared to the rest of Major League Baseball.
So what is the net worth of Giancarlo Stanton?  As stated earlier, it currently sits at $15 million; however, it has the chance to increase dramatically over the next few years.  Giancarlo is scheduled to make $25 million this season and $26 million for both the 2019 and 2020 seasons.  These three years total up to $77 million in earnings.  By the end of the 2020 season, Giancarlo Stanton's net worth could reach in excess of $40 million.
After the 2020 season, Stanton will have eight years remaining on his current contract with the first seven years being a player option.  If he is able to complete the full 13 years of his contract, Giancarlo Stanton's net worth could climb to as high as $150 million.  At that point he would easily be one of the top earners among professional athletes.  Since Major League Baseball contracts tend to be fully guaranteed, there is a high probability that his net worth will touch the nine figure mark.
Based on the amount of salary Giancarlo is demanding throughout his contract, it is obvious the Yankees are hoping he produces at a high level.  In his first game at Yankee Stadium in uniform this season he was booed by the local fans.  He followed this up the following day with a home run and quickly earned his spot among the New York faithful.
Stanton has the physical prowess needed to be a professional athlete.  At 6'6" in height and 245 pounds, he was a three sport athlete in high school out in California.  Although he accepted a baseball scholarship at Tulane, he opted to instead enter into his professional baseball career and the $475,000 signing bonus that came along with it.
James Hendrickson is an internet entrepreneur, blogging junky, hunter and personal finance geek.  When he's not lurking in coffee shops in Portland, Oregon, you'll find him in the Pacific Northwest's great outdoors.   James has a masters degree in Sociology from the University of Maryland at College Park and a Bachelors degree on Sociology from Earlham College.  He loves individual stocks, bonds and precious metals.