The Cleveland Cavaliers and Golden State Warriors are meeting yet again in the NBA Championship.  While we are all familiar with many of Golden State's stars, Steph Curry, Kevin Durant, and Klay Thompson, many aren't too familiar with the Cavs players.
Sure we all know of Lebron James and a few others, but if you are not a basketball fan, you might not have heard of Kyle Korver.  He comes off the bench for Cleveland, and Kyle Korver's net worth sits at $20 million.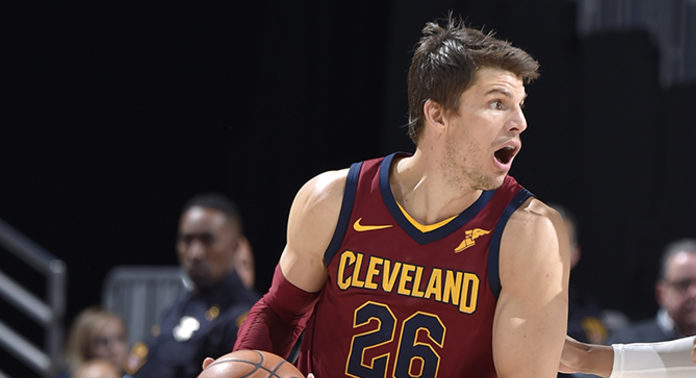 Korver was traded to Cleveland during the middle of the 2016-2017 NBA season.  He is now playing in his second championship series with the Cavs.
A former second round draft pick in the 2003 NBA draft, Kyle is currently playing in his 15th season as a professional.  The 6'7″ Korver excelled in the early 2000's as a member of the Creighton Bluejays basketball team.  In his senior season, he averaged nearly 18 points per game and shot 48% from three-point range and over 90% from the free-throw line.
He was selected 51st overall by the New Jersey Nets (now the Brooklyn Nets) but was eventually exchanged to the 76ers where he began his career.  While in Philadelphia, Kyle became a part time starter.  In the 2006-2007 season, he averaged a career high in points per game with 14.4.
Kyle has played for a total of five NBA teams.  The teams include the Philadelphia 76ers, the Utah Jazz, the Chicago Bulls, the Atlanta Hawks, and the Cleveland Cavaliers.  Only on one of these teams did he become a full time starter, and that was with the Atlanta Hawks.
Despite coming off the bench for the Cavs this season and being 37 years old, Korver's numbers are right up there with his career averages.  His career averages in three-point percentage, 43%, and free-throw percentage, 88%, rank him among the top all time in the NBA.  In fact, in the 2009-2010 season while playing for the Jazz, Korver set and still holds the NBA record for highest three-point shooting percentage in a regular season.
Even though he hasn't signed a massive contract like the ones seen today, Kyle Korver's net worth can be mostly attributed to his $70 million in NBA career earnings.  He is currently earning $7 million this season for the Cavs, and he is expected to make around $7.5 million per season for the next two years according to his contract.
In the upcoming seasons, Kyle Korver's net worth could close in on the $30 million mark.  However, in order for him to surpass that he will need to be playing until he is at least 40.
LINKS TO OTHER ATHLETE NET WORTHS
James Hendrickson is an internet entrepreneur, blogging junky, hunter and personal finance geek.  When he's not lurking in coffee shops in Portland, Oregon, you'll find him in the Pacific Northwest's great outdoors.   James has a masters degree in Sociology from the University of Maryland at College Park and a Bachelors degree on Sociology from Earlham College.  He loves individual stocks, bonds and precious metals.