Moving across the country is never easy, but when you have an $8 million salary attached to the move it makes things much easier.  Garrett Temple is the latest NBA player to be affected from an offseason trade.  Although he spent his last two seasons with the Sacramento Kings, he will now be a member of the Memphis Grizzlies.  Garrett Temple net worth sits at $4 million.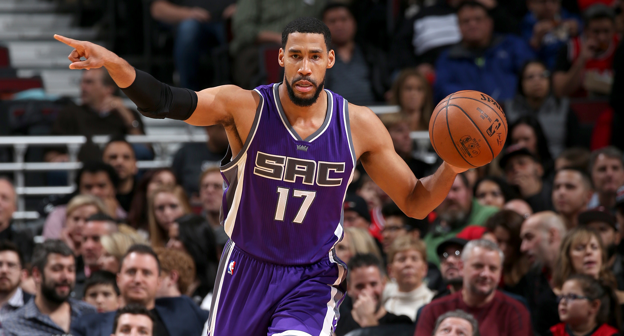 An eight year NBA veteran, at 32, Temple is considered to be old in NBA years.  The Memphis Grizzlies will be the seventh different NBA team he has played for during his career.
Temple spent the entirety of his last two seasons playing for the Kings.  Although he would occasionally have a starting role, more often than not he came off the bench.  This past season he set a career high in points per game for a season, averaging 8.4 in each contest.  At 6'6″ and 200 pounds, he plays the small forward position, the same as LeBron James.
Garrett Temple net worth didn't start to climb until recently.  In each of the last two seasons, he made $8 million per year.  Additionally, during this upcoming season, he is also scheduled to make the same amount.
Before the 2016-2017 NBA season began, Temple saw his career slowly fading.  He was getting short one and two year contracts barely valued at $1 million per season.  However, during the summer of 2016 that all changed.  In July of 2016, Temple finally hit the payday he had been hoping for.  He signed a three year contract with Sacramento valued at $24 million.  It is this contract that has helped his net worth climb past the seven figure mark.
Despite earning more than $20 million in on the court earnings through his career, Temple's net worth has been impacted negatively by high California taxes.  In each of the last two years, he was in California's highest income tax bracket due to his large contract.
There is some good news about Garrett Temple moving to Memphis.  The state of Tennessee does not have state income tax, thus he can expect to keep a bit more of his paycheck.  Since California's highest state income tax bracket is 13.3%, Temple will be able to pocket hundreds of thousands more by his move to The Volunteer State.
Even though Temple is entering the final season of his current contract, if he can produce this season for the Grizzlies he might be due for another big payday.  In essence, a solid performance means that Garrett Temple net worth can continue to climb.
FOR MORE BASKETBALL PLAYER'S NET WORTH CHECK OUT THE FOLLOWING:
If reading this blog post makes you want to try your hand at blogging, we have good news for you; you can do exactly that on Saving Advice. Just click here to get started.
James Hendrickson is an internet entrepreneur, blogging junky, hunter and personal finance geek.  When he's not lurking in coffee shops in Portland, Oregon, you'll find him in the Pacific Northwest's great outdoors.   James has a masters degree in Sociology from the University of Maryland at College Park and a Bachelors degree on Sociology from Earlham College.  He loves individual stocks, bonds and precious metals.