When it comes to professional sports, each position is paid differently.  This is clearly seen especially with NFL contracts.  Quarterbacks tend to be the highest paid players on the team, followed by receivers and star players at a variety of positions.  Many recognize that tight ends aren't paid as much as their receiving counterparts, but that hasn't stopped Vernon Davis of the Washington Redskins.  Vernon Davis net worth sits at $25 million.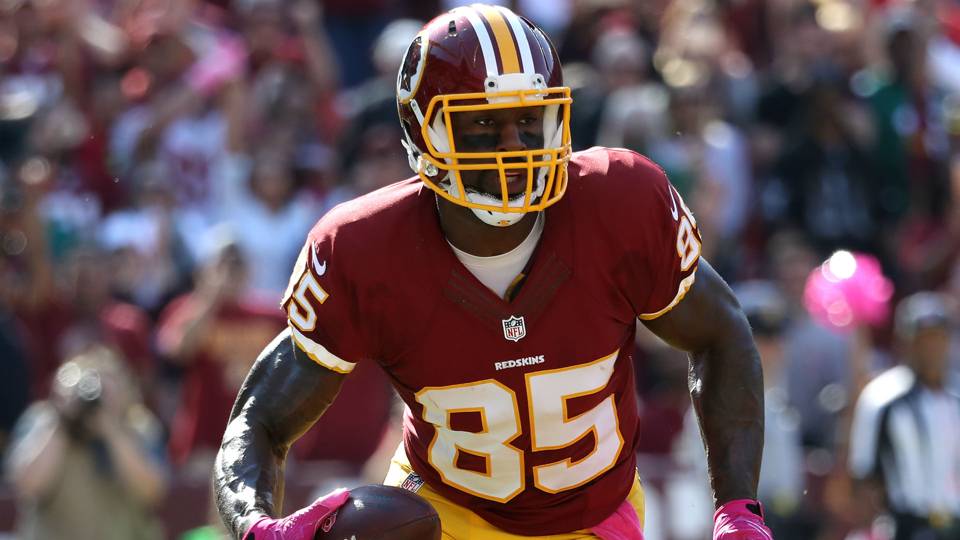 Davis is an NFL veteran.  The sixth overall pick in the 2006 NFL draft, the tight end from the University of Maryland has made his mark on the league.  Known for his physical strength and prowess, Vernon is now entering his 13th year in the league for 2018.
Upon being drafted in 2006, Vernon Davis' first contract was valued at $23 million over five seasons.  Right as the 2010 NFL season began, the 49ers and Davis hammered out an extension for an additional five years that would pay the star tight end nearly $37 million.
In the final season of Davis' contract extension, the San Francisco 49ers traded the tight end to the Denver Broncos.  After spending only a handful of games with the Broncos, Vernon Davis became a free agent.  He eventually would join the Washington Redskins.
2018 will be Vernon Davis' 13th year in the NFL and his third season with the Redskins.  He is currently in the middle of a three year $15 million contract he signed before the start of the 2017 season.  While this smaller contract is less than half of one of his previous ones, it still is giving a large bump to Vernon Davis net worth.
Upon the conclusion of last season, Davis has racked up nearly $70 million in career on the field earnings in the NFL.  Couple this with some of the advertisement deals he has done, and it is easy to see how Vernon Davis net worth is as high as it is.
A two-time Pro Bowler, Davis has totaled over 7,000 receiving yards and 60 touchdowns during his career.  In fact, after the 2018 season, Davis will have the highest career earnings to date of any tight end.  His earnings will be more than that of Antonio Gates and Tony Gonzalez.
While Vernon Davis will be remembered by most for his career as a 49er, it is how he finishes in Washington that could define his legacy.  If Vernon is able to complete his contract with the Redskins and add more stats to his impressive career, he could easily go into the Hall of Fame.
OTHER NFL PLAYER'S NET WORTH
If reading this blog post makes you want to try your hand at blogging, we have good news for you; you can do exactly that on Saving Advice. Just click here to get started.
James Hendrickson is an internet entrepreneur, blogging junky, hunter and personal finance geek.  When he's not lurking in coffee shops in Portland, Oregon, you'll find him in the Pacific Northwest's great outdoors.   James has a masters degree in Sociology from the University of Maryland at College Park and a Bachelors degree on Sociology from Earlham College.  He loves individual stocks, bonds and precious metals.