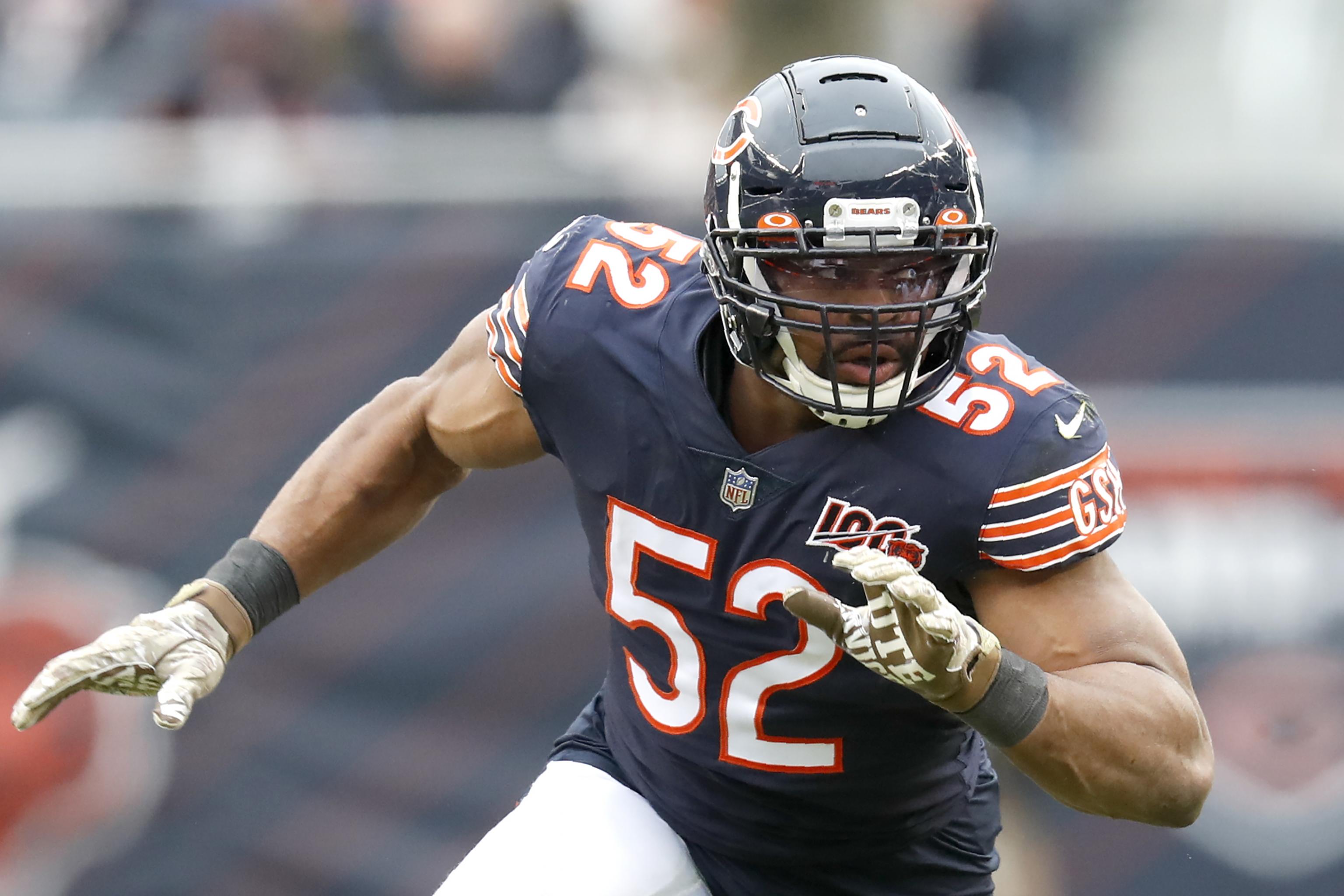 Week 1 is in the books.  While fans and coaches are trying to determine how good they will be for the upcoming season, players continue to make the big bucks.
Khalil Mack is one of the top-earning players in the league.  During the offseason, Mack got traded to the Chicago Bears from the Oakland Raiders.  Upon arriving in Chicago, Mack signed a mega deal valued at $141 million over six seasons.  Conservatively, Khalil Mack net worth sits at $18 million but other sources suggest that his net worth is $55 million.
Fifth Overall Pick With a $55 Million Net Worth
The fifth overall pick in the 2014 NFL draft, Khalil Mack has made an impact since the very beginning of his NFL career.  It's no surprise that his bank account has also been on a steady increase.  His initial rookie contract was for four years and valued at over $18 million.  It included a near $12 million signing bonus which set the foundations for his astronomical net worth.
Mack started every game of his first four seasons for the Raiders but a failure in contract negotiations led to him being traded to the Chicago Bears.  The Bears, ready to take the next step as a franchise, were willing to give Mack the largest linebacker contract to date.
Mack totaled over 40 sacks in his first four NFL seasons in Oakland.  He hasn't stopped yet.  In his first game in Chicago the impact could be felt.  Although the Bears lost due to a comeback victory by the Green Bay Packers, Mack scored his first touchdown as a Bear.  He took an interception back to the house which helped grow the Bears lead at the time to 17 points.
Despite the fact that the Bears ended up losing the game, the team has a lot to look forward to going forward.  It is easy to tell after week 1 that Mack was worth the money.
$34 Million Signing Bonus
As part of Khalil Mack's $141 million contract, he received a signing bonus valued at $34 million.  More importantly, the contract contains $90 million in guaranteed money, one of the highest guarantees ever handed out.
Khalil has been able to attract not only top contracts with his team but also top deals from major  brands. The likes of Nike, New Era, and Panini have offered the star lucrative endorsement deals.
As he continues to play through his contract, expect Khalil Mack's net worth to continue to rise.  In fact, by the end of his contract, his net worth could well exceed $50 million.  Not too shabby for a player who went to a small school for college football.
OTHER NFL PLAYER'S NET WORTH
If reading this blog post makes you want to try your hand at blogging, we have good news for you; you can do exactly that on Saving Advice. Just click here to get started.
James Hendrickson is an internet entrepreneur, blogging junky, hunter and personal finance geek.  When he's not lurking in coffee shops in Portland, Oregon, you'll find him in the Pacific Northwest's great outdoors.   James has a masters degree in Sociology from the University of Maryland at College Park and a Bachelors degree on Sociology from Earlham College.  He loves individual stocks, bonds and precious metals.