Many kids dream of playing sports professionally, but very few actually achieve it.  There are even fewer people who are able to play a professional sport for a long time.  Brian McCann will be entering his 15th professional season in the MLB in 2019.  Brian McCann's net worth sits at $40 million.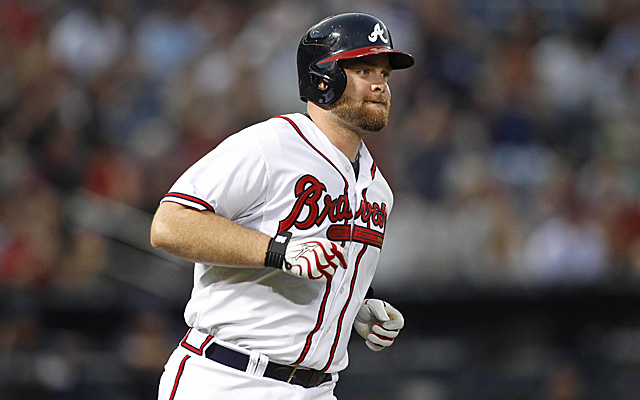 Brian McCann's Career Earnings
Brian McCann got his professional career off the ground in 2002 when he was drafted 64th overall in the MLB draft.  He received a $750,000 signing bonus to help jump start his net worth.
Career earnings on the field for Brian McCann are over $120 million.  He recently just signed a one year, $2 million contract for the 2019 season with the Atlanta Braves.  This most recent contract will push his earnings to nearly $130 million, tops among active catchers.
His largest contract signed came after the 2013 season when he signed with the New York Yankees.  The contract was valued at $85 million for five years.
Brian McCann's Statistics
For his career, McCann currently holds a batting average of .263.  Additionally, he has belted 270 home runs and nearly 1000 RBI's (Runs Batted In).  A career on base percentage of .338 makes him one of the more reliable offensive catchers in the game.
With McCann's new contract, he is now returning to the team he spent the first nine seasons of his career with, the Atlanta Braves.  It was his time in Atlanta that ultimately yielded his large contract with the Yankees.
Brian's most efficient season offensively came in 2006 with Atlanta.  In 2006, he set his career high for batting average in a season, .333, and a season high number of home runs, 24.  It was this performance in 2006 that convinced the Braves to sign their catcher to an extension.  Before the start of the 2007 MLB season, McCann and the Braves agreed to a six year extension worth nearly $27 million.
Brian McCann's Net Worth Outlook
Brian will be 35 years old before the start of the 2019 MLB season.  He is coming down to the end of his career in terms of playing baseball.  While he will add additional money's to his net worth, it is expected to make minimal impact.
Since Brian McCann's net worth sits at $40 million at the time of this writing, we don't see it increasing much beyond this.  If he is able to produce next season for the Braves, then there is a chance that his net worth could increase a bit more with a new extension.
OTHER MLB PLAYER'S NET WORTH
If reading this blog post makes you want to try your hand at blogging, we have good news for you; you can do exactly that on Saving Advice. Just click here to get started.
James Hendrickson is an internet entrepreneur, blogging junky, hunter and personal finance geek.  When he's not lurking in coffee shops in Portland, Oregon, you'll find him in the Pacific Northwest's great outdoors.   James has a masters degree in Sociology from the University of Maryland at College Park and a Bachelors degree on Sociology from Earlham College.  He loves individual stocks, bonds and precious metals.