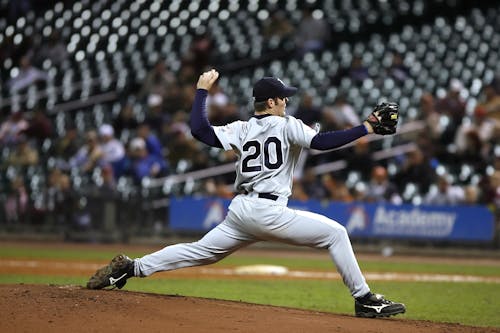 Finding your way into the major league in any sport is a difficult challenge, especially in baseball. It often takes many years for players to collect millions, and some never do.
Danny Farquhar doesn't have an eight figure net worth like some MLB pitchers such as Jeff Samardzija, but his seven figure net worth is more in line with someone like Shawn Tolleson. Danny Farquhar's net worth sits at $1.2 million.
Danny Farquhar's Statistics
At only 5'9″ and 185 pounds, Danny doesn't fit the mold of your typical MLB pitcher. Despite his size, he has had a moderately successful professional career as a relief pitcher.
He maintains a career ERA (Earned Run Average) of 3.93 to go along with 309 career strikeouts.  Farquhar has a combined MLB pitching record of 10-15 to go along with 18 career saves.
His most active year in the majors came during the 2014 season with the Seattle Mariners. He pitched in a total of 66 games during that season and had a career best 2.66 ERA for the year. Additionally, his 81 strikeouts for the year were the most he's had in a season.
Danny Farquhar's Career Earnings
Danny's career in professional baseball began in 2008 when he was drafted in the tenth round by the Toronto Blue Jays. He was awarded with a handsome signing bonus upon signing with the team that was in the six figures. Although he spent a couple of years in the minors, he finally made his first major league appearance during the 2011 season.
Throughout his professional career, Danny has totaled more than $4 million of career earnings on the baseball diamond. His most lucrative season came in 2018 when he earned over $1 million in salary while playing for the Chicago White Sox. He also made over a million during the 2017 season as well. It's safe to say that Danny Farquhar's net worth has increased due to the salaries later in his career.
Danny Farquhar's Health
During a game in the 2018 season, Danny collapsed in the dugout. It was later found that he had a brain hemorrhage. After undergoing many surgeries, he was able to live to tell about it. Danny hopes to find himself pitching again in the majors. He has signed a contract for the 2019 season with the New York Yankees, and he hopes to find his way back out onto the diamond later this year.
Other MLB Players' Net Worth
If reading this blog post makes you want to try your hand at blogging, we have good news for you; you can do exactly that on Saving Advice. Just click here to get started.
James Hendrickson is an internet entrepreneur, blogging junky, hunter and personal finance geek.  When he's not lurking in coffee shops in Portland, Oregon, you'll find him in the Pacific Northwest's great outdoors.   James has a masters degree in Sociology from the University of Maryland at College Park and a Bachelors degree on Sociology from Earlham College.  He loves individual stocks, bonds and precious metals.