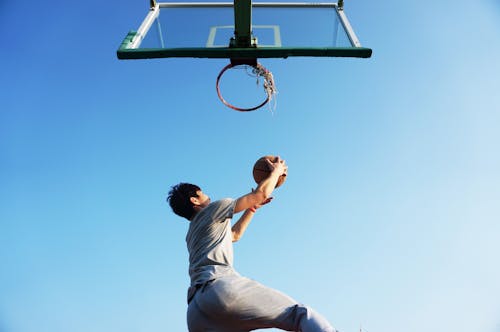 Another NBA All-Star weekend is now in the books. While Team Lebron faced off against Team Giannis on Sunday night, many tune in to watch the three point and slam dunk competition that takes place on Saturday night.
The winner of the 2019 NBA Dunk Contest was a 20 year old named Hamidou Diallo. The Oklahoma City Thunder guard is in his rookie season. Hamidou Diallo has a net worth of $300,000.
Hamidou Diallo's Career Statistics
Diallo was drafted 45th overall in the 2018 NBA draft. After a couple of trades, Hamidou found himself beginning his professional career in Oklahoma City. A 6'5″ shooting guard out of the University of Kentucky, Hamidou is averaging just four points per game thus far this season.
Hamidou played only one season at the University of Kentucky. During that season, he played and started in every game where he averaged ten points per game. He helped the team claim the SEC Tournament Championship to go along with a Sweet 16 appearance in the NCAA tournament.
Hamidou Diallo held offers from many schools upon graduating high school in New York. He was a consensus five star recruit out of Putnam Science Academy and committed to Kentucky in January of 2017.
Hamidou Diallo's Net Worth Outlook
Although he is still relatively young in age, Hamidou Diallo's net worth outlook is hard to predict. Before the start of the season, Diallo signed a 2 year contract valued at $2.26 million. The Thunder will have the opportunity to extend Hamidou to a third and possibly fourth season before they will be required to negotiate a new deal.
Hamidou is making just north of $800,000 for the 2018-2019 NBA season. If he is able to capitalize on the momentum from the 2019 dunk contest, then he could see his net worth elevate in the coming years.
When it comes to future contracts for Diallo, he is hoping he will be able to ink a large deal similar to that of Klay Thompson of the Golden State Warriors. Thompson, much like Diallo, also participated in events leading up to the All-Star game. Thompson was the winner of the 2016 NBA All-Star Three-Point contest.
For more basketball player net worth articles check out:
If reading this blog post makes you want to try your hand at blogging, we have good news for you; you can do exactly that on Saving Advice. Just click here to get started.
James Hendrickson is an internet entrepreneur, blogging junky, hunter and personal finance geek.  When he's not lurking in coffee shops in Portland, Oregon, you'll find him in the Pacific Northwest's great outdoors.   James has a masters degree in Sociology from the University of Maryland at College Park and a Bachelors degree on Sociology from Earlham College.  He loves individual stocks, bonds and precious metals.