Senator, boxing champion, singer, and inspiration to millions of Filipinos and boxing fans around the world, Manny Pacquiao has brought rivals to their knees and fans to their feet. At age 40, he has a reported net worth of $190 million but more importantly his legacy in the hearts of millions.
A Champion is Born
Pac Man started professional boxing at age 16. He left his family as a teenager, boarding a ship to Manila on his hero's journey to boxing glory.  He went on to win titles in different weight divisions. In January of 1995, he stepped into the ring against Edmund Ignacio. He beat him four rounds later.
Three years later, Pacquiao won his first major boxing championship against Chatchai Sasakul of Thailand in a battle for the lightweight title. Since then Pacquiao has achieved 56% KOs from his 61 wins. It's no wonder he's the sixth richest boxer of all time.
$419 Million Earnings
His highest purse for a fight was against Mayweather, at an estimated $120 million. A killing in contrast to the $1.5 million he earned against Erik Morales in 2005. The fight set records in boxing history including gate fees of $73 million and total revenue $600 million.
He was guaranteed $20 million in his fight against Shane Mosley where he grabbed victory in the twelfth round.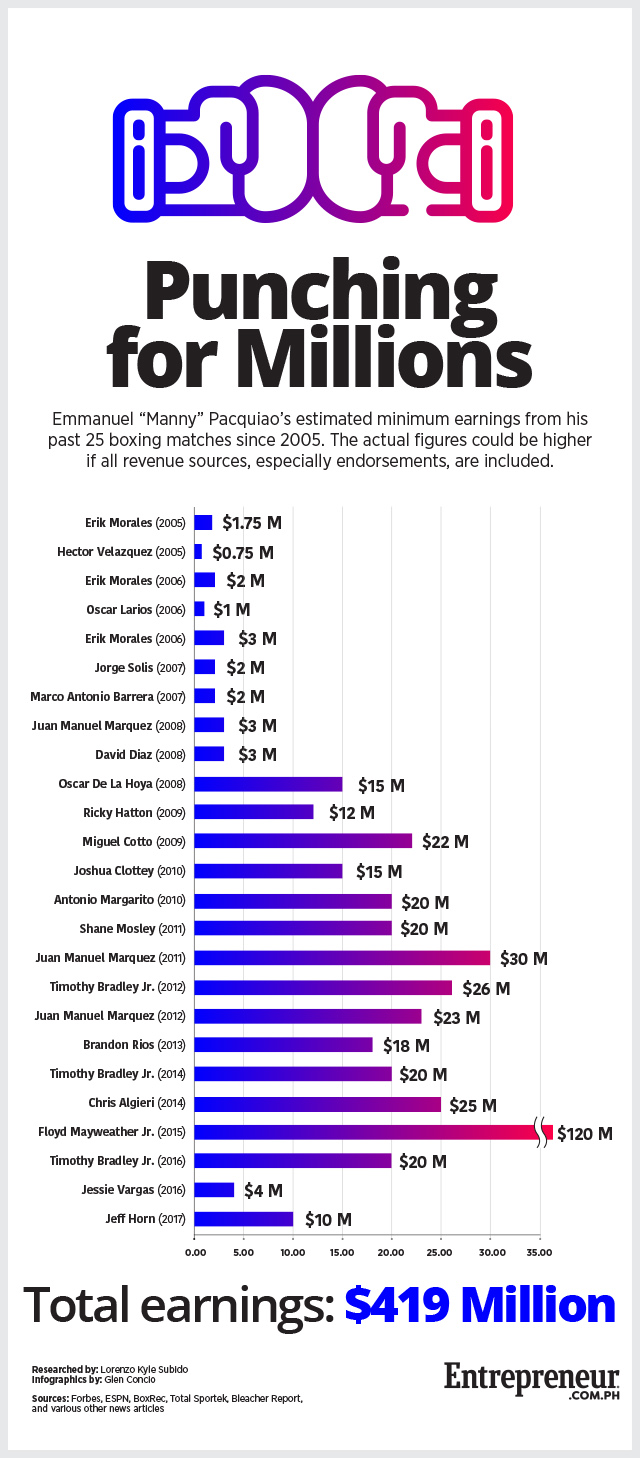 The victory over Mosley was a breeze as Pac Man forced a landslide 119-108, 120-108, 120-107 points decision. He apologized to the fans after the fight for Mosley's failure to put up a fight.
Fans may have found his fight with Broner equally as unimpressive. Pac landed 48% more punches and connected 44 more body shots than Broner who only had 3 body shots the entire match. Pacquiao deservedly banked $10 million for the fight while Broner received $2.5 million.
Endorsements
Pac has made $2.5 million in endorsements. His endorsements with Nike have been somewhat rocky but beneficial nonetheless. After Nike parted ways with the champion, he signed a deal with Chinese apparel brand ANTA.
Cryptocurrency
Pac Man also launched his own crypto currency at a Manila concert. The currency was named Pac and it allowed his fans to interact with him and also buy merchandise unlike other cryptocurrencies like Bitcoin. Usually the bitcoins are traded by top level investors using automated software applications like bitcoin loophole and it is reviewed at https://www.bitcoingrowthfund.com/updates/ in detail.
Mansions In Beverly Hills
Manny owns a house in Beverly Hills valued at $12.5 million. He gave the seller four tickets in addition to the selling price for the 10,000 square-foot property. The entrance to the home is two stories high with a fountain in the driveway.
His home in the Philippines was acquired for $9 million. The 1,500 square meters property is located in Cambridge Street, North Forbes, Makati City. It is more expensive than the LA home he bought for $2.16 million in 2009.
On a scale of 1-10, Manny's work ethic is a 20. He has a little fun with his matte black Ferrari 458 Italia which he purchased in 2011 for $525,00. He also owns a Mercedes SL500 valued at $45,000.
Foundation
His heart is bigger than the belts he's won. Manny understands what it means to be born into poverty, having been a product of humble beginnings who rose above his challenges. He has given hundreds of scholarships to those in need. As at 2015, he gave away over $400,000 in medical assistance. Statistics show that in the same year 26 million Filipinos were living in poverty. Manny continues to do his best to change that narrative.
Calvin Ebun-Amu is passionate about finance and technology. While studying his bachelor's degree, he found himself using his spare time to research and write about finance. Calvin is particularly fascinated by economics and risk management. When he's not writing, he's reading a book or article on risk and uncertainty by his favourite non-fiction author, Nassim Nicholas Taleb. Calvin has a bachelors degree in law and a post-graduate diploma in business.