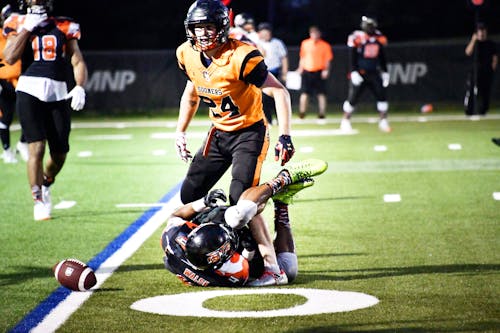 Through the first three weeks of the NFL season there has already been quite a bit of drama. Antonio Brown landed on a new team before being released again. Players such as Jalen Ramsey are asking to be traded.
Jalen's teammate and fellow cornerback AJ Bouye is solely focused on playing ball this season. Currently in year three of a five year contract, AJ Bouye net worth currently sits at $15 million.
AJ Bouye Career Statistics
The first four years of AJ Bouye's professional career were spent with the Houston Texans. His time since then has been spent in Jacksonville. In his career, Bouye has recorded a total of 13 interceptions. Arguably his best year came in 2017. During the 2017 season he recorded a career high six interceptions and 53 solo tackles.
AJ has played in two games thus far in the 2019 season and has recorded a total of six tackles and defended two passes.
AJ Bouye Career Earnings
AJ is currently playing in his seventh career NFL season. He has made a lucrative career thus far for himself. After the completion of the 2019 NFL season, AJ would have earned more than $40 million in on the field earnings.
Despite being undrafted out of Central Florida in the 2013 NFL draft, AJ was able to prove himself on the big stage. Eventually, after the conclusion of the 2016 season, AJ was able to ink a massive deal with the Jacksonville Jaguars. His five year deal was valued at $67 million making him one of the highest paid players on the Jags.
AJ Bouye Net Worth Outlook
AJ Bouye's net worth outlooks looks very promising. He has two years remaining on his current contract with the Jags. If he is able to play out the entirety of his contract, his earnings over the next two seasons will total approximately $27 million.
Cornerbacks in the NFL are demanding some serious money at the moment. AJ's teammate Jalen Ramsey is one of those players hoping for a large payday very soon.
Other NFL Players' Net Worth
If reading this blog post makes you want to try your hand at blogging, we have good news for you; you can do exactly that on Saving Advice. Just click here to get started.
James Hendrickson is an internet entrepreneur, blogging junky, hunter and personal finance geek.  When he's not lurking in coffee shops in Portland, Oregon, you'll find him in the Pacific Northwest's great outdoors.   James has a masters degree in Sociology from the University of Maryland at College Park and a Bachelors degree on Sociology from Earlham College.  He loves individual stocks, bonds and precious metals.