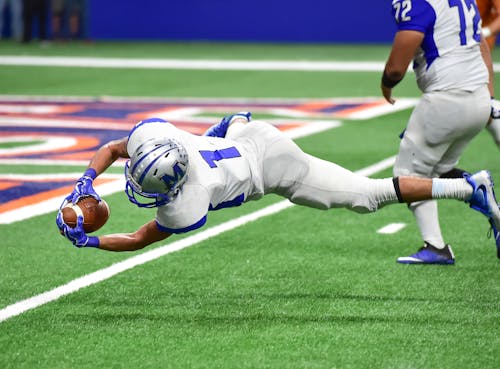 While we tend to focus on net worth's of skilled position players in the NFL, we thought it was time to give the men in the trenches some love too. In steps Larry Warford. Warford is an NFL veteran offensive lineman for the New Orleans Saints. A consistent starter throughout his career, Larry Warford has a net worth of $11 million.
Larry Warford's Career Statistics
As an offensive lineman, Larry doesn't really have too many statistics. He is currently playing in his seventh NFL season. Throughout his seven seasons, Warford has started every single game he has played in, which is quite a feat. He's missed the occasional game here and there, but all in all has been a reliable offensive guard for both the Lions and the Saints.
Larry Warford's Career Earnings
Larry was the 65th overall pick in the 2013 NFL draft out of the University of Kentucky. His initial contract paid him more than $3 million for his four years of service. Additionally, he received a signing bonus of nearly $700k that helped jump start his net worth.
After playing out his rookie contract, Larry would end up getting some serious money. Warford signed a four year contract worth $34 million to join the New Orleans Saints. Included in his new contract was a signing bonus of $8.4 million. The Saints also guarenteed half of the contract money meaning Warford would at least see $17 million of it.
Larry Warford's Net Worth Outlook
Warford recently restructured his contract with the Saints and looks to spend not only the 2019 but also the 2020 season with the team. With that being said, Warford's total compensation for the 2020 season will be in excess of $13 million.
Due to his restructured contract, we expect Larry Warford's net worth to continue to increase in the years to come. He is more than likely going to earn all $34 million of his contract, and he has a good chance to earn even more with his next one.
Other NFL Players' Net Worth
If reading this blog post makes you want to try your hand at blogging, we have good news for you; you can do exactly that on Saving Advice. Just click here to get started.
James Hendrickson is an internet entrepreneur, blogging junky, hunter and personal finance geek.  When he's not lurking in coffee shops in Portland, Oregon, you'll find him in the Pacific Northwest's great outdoors.   James has a masters degree in Sociology from the University of Maryland at College Park and a Bachelors degree on Sociology from Earlham College.  He loves individual stocks, bonds and precious metals.