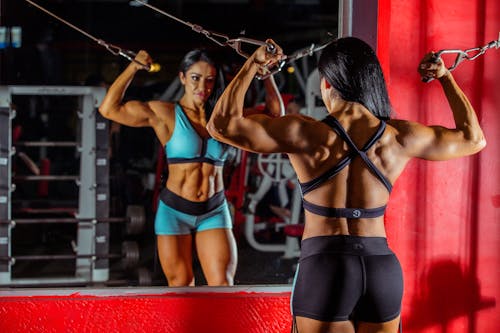 11 out of Forbes' top 12 highest-earning female athletes were tennis players. The highest earning female athletes have one thing in common- unthinkable levels of hard work and sacrifice. While there is still a significant pay gap between female athletes and male athletes, recent sponsorship deals and competition winnings of top-earning female athletes shows that the future is bright. 
Naomi Osaka
Since signing deals with Mastercard, All Nippon Airways, Toyota and Procter & Gamble, Naomi Osaka's off-court profits rose from $1.5 million annually to an unprecedented $16 million over the 12 months ended June 1.Her endorsement haul will be even bigger in the next year after she signed a multi-million-dollar blockbuster pact with Nike in the spring just ahead of our cutoff earnings. Osaka, 21, is set to become one of the faces of Tokyo's 2020 Summer Olympics.
Serena Williams
Williams, for the fourth year in a row, is the highest-paid female athlete in the world. Since returning to the WTA Tour after the birth of her child, Olympia, in September 2017, she won $29.2 million, including $4.2 million in prize money.The estimated net worth of $225 million of Williams made her the only woman on Forbes ' ranking of the Richest Self-Made Women in America.
Williams continues to expand one of the biggest sporting sponsorship holdings, bringing to her stable Pampers, Axa Financial and General Mills. More than a hundred other companies, such as Adidas, Apple, Gatorade and JPMorgan Chase, follow them. Serena Investments, her investment firm. Since 2014, has been quietly supporting companies and has already invested in over 30 companies.
Venus Williams
Celebrity Net Worth records a net worth of $95 million for Venus Williams. The figure is big, yet far from the net worth of her sister, Serena Williams. Venus Williams has made over $41.4 million in prize money over the course of her career, according to the WTA. 
The four-time Olympic Gold medallist has introduced her own YouTube channel. Venus is also the CEO of V Starr. She also has several holdings, most prominently maybe as one of the hundreds of stars holding a share of the Ultimate Fighting Championship, or UFC. She is also a prominent supporter of Ellevest, a women-oriented digital investment platform. Ellevest is designed to assist women interested in investments and to help achieve the goal of female and men financial inclusion.
Angelique Kerber
According to Celebrity Net Worth, the net worth of Angelique Kerber is $30 million. Most of her wealth comes from her prolific career in tennis. She earned $25 million from playing on the court, filling in endorsements for the rest of her worth. She is one of the world's highest paying female athletes, according to Forbes.
Simona Halep
Finishing as the top-ranked player of WTA in both 2017 and 2018, winning her first-ever Grand Slam in 2018 and defeating this year's Serena Williams at Wimbledon are just a few accolades that Simona Halep has achieved. With $33 million in overall career earnings, the top tennis star ranks fifth on the all-time list. Nike, Adidas, Mercedes-Benz and Hublot were big names in her sponsorship list.
Sloane Stephens
Stephens is currently ranked number 6 in the world and has been pocketing $14,692,592 throughout her lifetime. Organizations like Face, Under Armour and Precision Nutrition, have also backed Stephens.In 2013, she founded the Sloane Stephens Foundation with the goal of improving the quality of youth life. She aims to do this by exposing tennis as the basis for lifelong learning and making healthy choices in lifestyle.
P.V. Sindhu
Sindhu is considered as the most marketable female athlete in India. Pusarla Venkata Sindhu is an Indian star badminton player. She became the first Indian woman to win a silver Olympic medal in 2016 and the only second Indian badminton player ever to win an Olympic medal. 
She has career earnings of $457,583, according to the official website of the BWF. With a salary of $500,000 and total earnings of $5.5 million, PV Sindhu ranks 13th and remains the only Indian in the 2019 Forbes list of top-paid female athletes.Bridgestone, JBL, Gatorade, Panasonic and more have struck deals with the badminton star. She became the first Indian to win the 2018 season-end finals for the BWF World Tour.
Ariya Jutanugarn
With $2.7 million in prize money, Jutanugarn tops the winners list, 73 per cent more than Minjee Lee in second place. Big sister Moriya, this year ranks twelfth at $1 million in wins. Bonuses, appearance fees and local partners such as KBank, SCG, Thai Airways and Betagro (plus Titleist) drove total earnings north of $4 million.
Madison Keys
Madison Keys is a professional American tennis player with a net worth of $8 million. She was born in February 1995 at Rock Island, Illinois. In 2009, she became a professional and went on to win over $11 million in prize money. Keys has won five WTA tournaments, including the 2019 Cincinnati Open. 
Calvin Ebun-Amu is passionate about finance and technology. While studying his bachelor's degree, he found himself using his spare time to research and write about finance. Calvin is particularly fascinated by economics and risk management. When he's not writing, he's reading a book or article on risk and uncertainty by his favourite non-fiction author, Nassim Nicholas Taleb. Calvin has a bachelors degree in law and a post-graduate diploma in business.