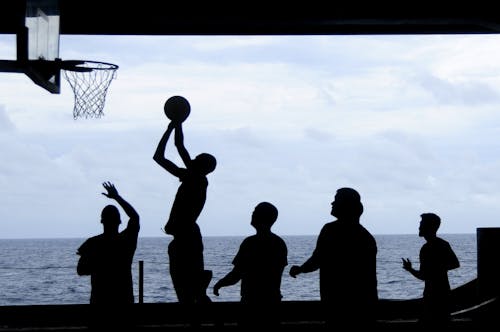 In a short space of time, Kevin Durant has made a lot of power moves in the NBA. He has the skills and the temperament to make him a legend in the league. Thus, it comes as no surprise that he is paid like a legend.
The Basketball Prodigy
Kevin Durant has proved himself to be the best non-LeBron player in the NBA over the past decade. Big things were expected from Durant as early as high school.As a nine-time NBA All-Star and one-time league MVP he has more than made good, rising up to the great expectations. He is one of the most famous players in the game of basketball. Despite having a lean frame, he is dominant on the court.
Durant was a young basketball prodigy, becoming one of the best prospects in the booming basketball scene of Washington, D.C. thanks to his early years in high school and his senior season as an All-American. He attended Texas University, where he led the Big 12 Conference as a freshman in average scoring (25.8 points per game), rebounding average (11.1 rebounds per game) and blocks (67). He was also an all-American first-team player and the first player to earn the Year's National Consensus College Player awards. After just one season, he chose to end his college career and was drafted by the Seattle SuperSonics with the second overall NBA draft selection in 2007.
Kevin Durant's Net Worth
Celebrity Net Worth reports that Durant is worth over $170 million. That would place him above other Americans of his generation exponentially. The icon, 30, is worth a ton, and after watching him play his entire career at such a high level, it's impossible to be shocked.
Durant signed a new $61.5 million two-year extension with the Warriors in July 2018. Durant made a $30 million salary, with a $31.5 million wage for the 2019-2020 season.
Despite his injuries which threatened to keep him out of the season, he had plenty of teams eager to work with him, from the Warriors to the New York Knicks. The Warriors signed him to a four-year contract worth more than $164 million, and dealt him to Brooklyn for a draft pick and three players (including D'Angelo Russell).
Spotrac estimates that his past 12-year contracts have given him more than $187 million in cash earnings. Although Durant probably won't see any time to play this upcoming season, his career earnings will push up to $225 million. The next three seasons on his contract (if he completes all of them because there's a player option in the third year) will push it up to $351.4 million.
What Durant Spends Money On
With great power comes great responsibility. In the case of Durant, with a lot of disposable income, comes a lot of incredible opportunities.
Durant's Ferrari California costs an estimated $200,000. A 4.3-L V8 engine powers the Ferrari California. This powerful engine, at 7,750 rpm, produces 453 horsepower. In terms of velocity, in just 3.8 seconds, it can go from 0 to 100. It can go as far as 310 km / h.
Durant's investment firm, Thirty Five Ventures, owned by sports executive Rich Kleiman, became a shareholder in Master & Dynamic, an audio company known for producing high-quality headphones with well-crafted materials and high sound quality.
Durant has exhibited superior strategic abilities with his business ventures. Thirty Five Communications is part of a larger company that comprises the business arm of Durant, The Durant Organization, and the Kevin Durant Charity Foundation, its philanthropic arm. Seven people work across the three agencies, including Durant and Kleiman.
One of the biggest projects of Durant Co as of late is Overtime. The app shows clips of top athletes in high school. Durant and Kleiman have not only invested nearly $10 million on money, but Durant will be involved with the company going forward.
Foundations
Kevin donated $10 million to introduce the famous college access system of College Track to his home town of Prince George's County, MD. ESPN has named him the 2018 Sports Humanitarian of the Year for a reason.
In his home town of Prince George's County, Maryland, he opened an after-school center called College Track at The Durant Complex. The complex will provide the tools they need to achieve college and graduate for low-income and underserved graduates.
Endorsements
Durant receives $35 million from clearance relations with corporations such as Adidas, Alaska Airlines and Google. It also covers his marketing connections with Google, ESPN and YouTube, as well as his acquisitions in companies such as Postmates, Lime and Rubrik.
Durant has gone through a wide range of endorsements, most notably a Nike shoe contract. In 2014, Durant signed a 10-year deal that "has the potential to reach $300 million and includes a $50 million retirement package," according to Jeff Zillgitt of USA Today. Nike initially signed a seven-year pact worth at least $60 million per Zillgitt for the University of Texas product, so Durant has appeared in many brand advertisements since entering the NBA in 2007.
Other Athletes' Net Worth
Calvin Ebun-Amu is passionate about finance and technology. While studying his bachelor's degree, he found himself using his spare time to research and write about finance. Calvin is particularly fascinated by economics and risk management. When he's not writing, he's reading a book or article on risk and uncertainty by his favourite non-fiction author, Nassim Nicholas Taleb. Calvin has a bachelors degree in law and a post-graduate diploma in business.