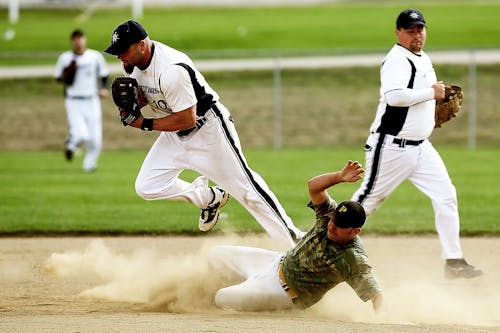 It's winter time and football is winding down. Basketball and hockey are in full swing. Baseball is relatively dormant. While it is the offseason for baseball, teams are making the necessary moves to better equip themselves for the 2020 season.
Zack Cozart was recently traded to the San Francisco Giants from the Los Angeles Angels. An MLB veteran, Zack Cozart's net worth sits at $12 million.
Zack Cozart's Career Statistics
Zack spent the first seven years of his MLB career with the Cincinnati Reds. He spent the 2018 and 2019 seasons with the Angels, and recently got traded to the San Francisco Giants. Cozart has been a consistent member in the starting lineup ever since his rookie year, but injuries have put a damper on that quite a bit.
For his career, Zack has maintained a .247 batting average and has belted 87 home runs. His breakout season came in 2017 when he hit nearly .300 and whacked 24 homers to go along with 62 RBI's (Runs Batted In). He also had a WAR (Wins Against Replacement) in 2017 of 4.96.
Zack Cozart's Career Earnings
Zack was drafted in 2007 out of Ole Miss. He was drafted 79th overall and awarded a signing bonus in excess of $400,000. Since then, Cozart has steadily built up his career earnings. In fact, he has now totaled nearly $40 million in on the field earnings after completion of the 2019 season.
Zack Cozart's net worth is largely due to his most recent contract. The three year contract he signed back in 2017 would pay him $38 million for three seasons. Cozart is due to make an additional $12.6 million for the 2020 MLB season.
Zack Cozart's Net Worth Outlook
At 34 years old, many would think Cozart still has a few years left in the majors; however, he has recently been plagued by injuries. In 2019, he missed 140 games due to injury. In 2018, he missed 109. Needless to say, injuries have taken a toll on the once promising third baseman.
It's possible that Cozart inks another deal after his current contract is over, but with the risk of injuries he has endured, a large one is unlikely. We most likely expect Zack Cozart's net worth to increase thanks to his final deal on his current contract.
Other MLB Players' Net Worth
If reading this blog post makes you want to try your hand at blogging, we have good news for you; you can do exactly that on Saving Advice. Just click here to get started.
James Hendrickson is an internet entrepreneur, blogging junky, hunter and personal finance geek.  When he's not lurking in coffee shops in Portland, Oregon, you'll find him in the Pacific Northwest's great outdoors.   James has a masters degree in Sociology from the University of Maryland at College Park and a Bachelors degree on Sociology from Earlham College.  He loves individual stocks, bonds and precious metals.