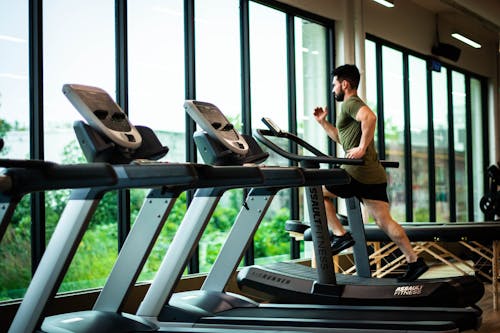 It's the time of year that the marketing gurus of fitness products and anything related to fitness are broadcasting out their ads. Buy this, buy that, join us, join this. This piece of equipment will help you shed 20 pounds in one month!
While all these ads are out there, I'll explain to you the 3 best things about a gym membership from a guy who belongs to one and actually goes!
Best Thing About a Gym Membership #1
No investment in bulky equipment! Like most Americans, I don't have the space in my home to dedicate to a full service gym. Unless you have at least a few hundred square feet to dedicate to an all out gym, chances are your areas are occupied with other items.
Sure bikes like a Peloton or an elliptical might claim to be "space saving"; however, the more equipment you add the more space you need.
Best Thing About a Gym Membership #2
The variety of the workout. This piggybacks off of the first point. The more machines you have and weights you have, the more space you need. A gym membership allows you to do a variety of cardio workouts as well as weight lifts.
Most gyms have a full set of dumbbells, benches and other weighted machines for one to use. My gym also offers cardio options such as stair steppers, rowing machines, ellipticals, bikes, and treadmills. Using the same piece of equipment each time you workout can easily get boring, but the variety of a gym allows you to workout as you please.
Best Thing About a Gym Membership #3
The low cost. Sure there are specialty gyms out there that charge upwards of hundreds of dollars a month, but places such as Planet Fitness start as low as $10 per month. For the gym I use, I pay $15 a month and have 24/7 access. I even worked out at my gym on Christmas Day!
What people want in a gym differs, but you can gain access to a quality gym at a low monthly price. It is often said that the biggest investment you can make is in your health.
Conclusion
We can all dream of fancy home gyms or expensive pieces of equipment, but in reality you don't need much money or space to have a quality workout. Gyms aren't for everyone, but for those thinking it could be, the new year might be a good time to try it out.
If reading this blog post makes you want to try your hand at blogging, we have good news for you; you can do exactly that on Saving Advice. Just click here to get started.
James Hendrickson is an internet entrepreneur, blogging junky, hunter and personal finance geek.  When he's not lurking in coffee shops in Portland, Oregon, you'll find him in the Pacific Northwest's great outdoors.   James has a masters degree in Sociology from the University of Maryland at College Park and a Bachelors degree on Sociology from Earlham College.  He loves individual stocks, bonds and precious metals.