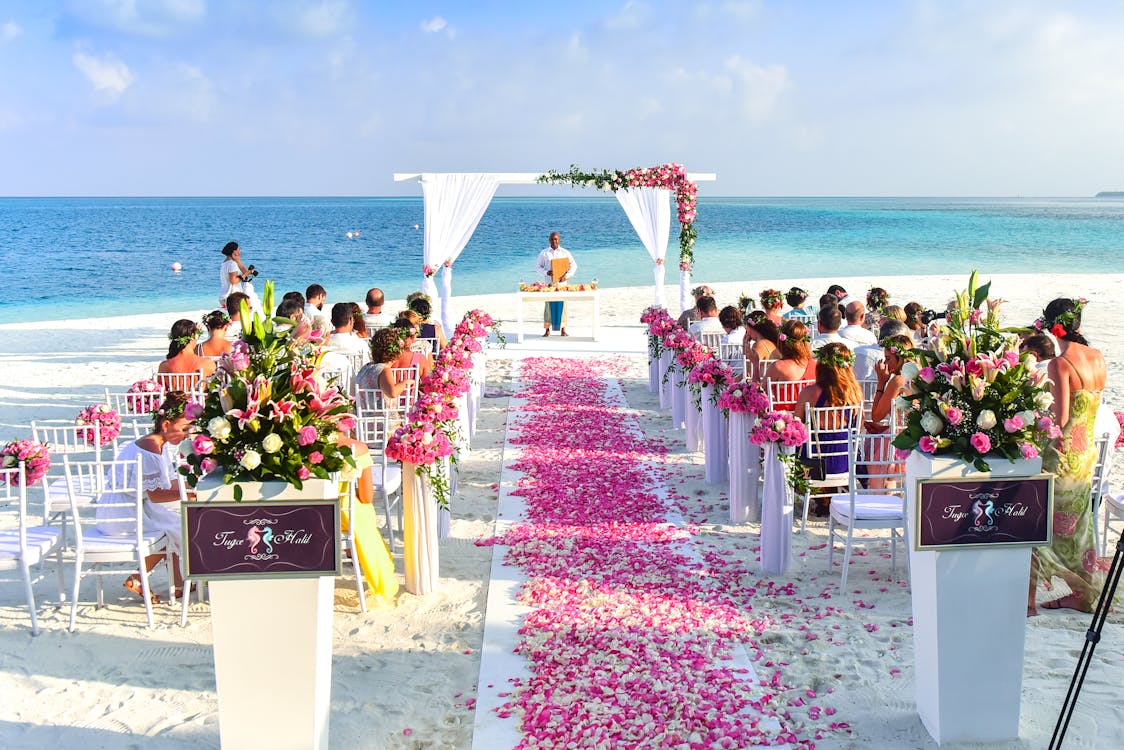 Summer is in full swing. While weddings occur all throughout the year, summer seems to be a popular time for two people to tie the knot. Many of us attend a wedding with the assumption that we are celebrating friends or family. But do we really know the costs behind it all? Weddings have been getting more and more expensive each year. Today, the average American wedding costs approximately $33,900. You may be asking yourself "How is this possible?" I can tell you 3 reasons why weddings are so expensive.
3 Reasons Why Weddings Are So Expensive
Reason 1: Reception Venue
Couples always have the option to fly away and elope. However, they typically want their wedding to be celebrated with family and friends. That celebration usually takes place after the ceremony at a reception venue.
A reception venue can vary from a museum, to a garden, or to someone's house. However, it has to be large enough to accommodate a large group of people. Because of this, renting a place to house so many is the only option. Sometimes this can come with a hefty price tag.
In addition to paying the venue, you also have to hire security, provide tables and chairs along with linens. All of these add up.
Reason 2: Food & Drink
If you don't have food or drinks at the reception, is it even a party? Needless to say, having food is a standard requirement for guests after the ceremony has taken place.
Caterers can be pretty expensive when it comes to food and overall food service. Additionally, if you decide to serve alcohol you will have higher costs. Let's not forget about the cake(s). All added up, the food and beverages could end up costing just as much if not more than the reception venue.
Reason 3: Photographer
While I still subscribe to the notion that a kid with an iPhone can take a pretty darn good photo, not everyone is on board with that. A wedding is supposed to be a once in a lifetime event. So, the pictures need to reflect that.
With wedding photography, "you get what you pay for." Sure, you might be able to find a good deal on one, but then another could be three times the cost. Also, there can sometimes be several photographers present on the day to capture the moments. They all take up a considerable portion of your wedding budget. To save up your money, you can pay for photography packages.
How to Avoid an Expensive Wedding
So, if you want to avoid spending a small fortune on your big day, the wedding professionals have a few tips for you. There is no need to go into debt or forfeit a down payment on a home to plan a wedding.
1. Set a Budget
The first rule of wedding planning is to set a budget. You will likely exceed this, but it is good to have a figure in mind. Before you make deposits or book vendors, make an itemized budget to estimate just how much it will cost you.
2. Decide What Is Most Important
Once you make the budget, you may realize that all your ideas are not feasible. It is important to choose which items on your list are the most important. If you splurge on every detail, you will be left footing a very expensive bill.
3. Open a Savings Account
Opening a dedicated savings account can help you keep your eye on the prize. By adding a little each month to your wedding fund, you can take the sting out of the final tallies. It will also make your goal seem more achievable. It can even help motivate you to save more quickly and stay within your budget.
Conclusion
Weddings are expensive. Many times the groom would be fine going to Vegas to elope. However, it has to please all parties. The 3 reasons why weddings are so expensive illustrated above will probably encompass about 70% of your wedding budget. So if you want to avoid an expensive wedding, don't get married, or go elope.
If reading this blog post makes you want to try your hand at blogging, we have good news for you; you can do exactly that on Saving Advice. Just click here to get started.
Read More
Jenny Smedra is an avid world traveler, ESL teacher, former archaeologist, and freelance writer. Choosing a life abroad had strengthened her commitment to finding ways to bring people together across language and cultural barriers. While most of her time is dedicated to either working with children, she also enjoys good friends, good food, and new adventures.